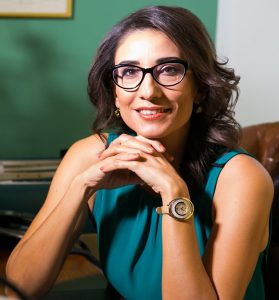 Niki Katsiki, MSc, PhD, MD, FRSPH is a specialist in Internal Medicine, Diabetes and Lipids. Her PhD was based on obesity-related peptides in patients with type 2 diabetes. She is currently an Academic Clinical and Research Fellow in the AHEPA University Hospital, Thessaloniki, Greece, running the lipid, obesity and diabetes outpatient clinics in the Diabetes Center, Division of Endocrinology and Metabolism, First Department of Internal Medicine, AHEPA University Hospital, as well as teaching the medical students and registrars.
Dr. Katsiki's clinical and research interests involve cardiometabolic diseases, including dyslipidemia, obesity, non-alcoholic fatty liver disease, hyperuricemia and diabetes prevention and treatment. She has participated in obesity, lipid, diabetes, and peripheral artery disease outpatient clinics. Dr Katsiki has given talks and lectures in several international conferences (in Greece, UK, Austria, Serbia, Italy, Cyprus, Spain, Poland, Bulgaria, Romania and Turkey) and participated in Expert Panel meetings, guidelines publications and clinical trials. She has also been involved in teaching medical students, trainees as well as postgraduate students in different countries. Furthermore, she was an examiner for 2 theses in the University of Cordoba, Spain.
Dr Katsiki was an Honorary Clinical Research Fellow at the Department of Clinical Biochemistry (Academic Head, DP Mikhailidis), Royal Free Hospital campus, University College London Medical School, University College London (UCL), UK. She was awarded an educational grant from the Hellenic Atherosclerosis Society and the Northern Greece Diabetes Association. Some of her clinical studies have been awarded by the Northern Greece Diabetes Association. Dr Katsiki is also a SCOPE member of the International Association for the Study of Obesity (EASO) and a member of the Diabetes & Cardiovascular Disease Group of the European Association for the Study of Diabetes (EASD). She is currently a member of the International Lipid Expert Panel (ILEP), the Executive Board of the Hellenic Atherosclerosis Society (HAS) and a scientific collaborator of the Medical School of the European University of Cyprus. Furthermore, she is a Fellow of the Royal Society of Public Health.
Dr Katsiki serves as a reviewer for several journals and she is Associate Editor of Angiology, Associate Editor of Diabetes Cardiovascular Complication, Section Editor of Archives of Medical Science as well as Book Review Editor and News and Views Editor of Current Vascular Pharmacology. She is also an Editorial Board Member in Metabolism Clinical and Experimental, Current Medical Research and Opinion and Journal of Diabetes Complication. Dr Katsiki has contributed chapters in national and international medical books on cardiovascular disease and diabetes. She has 349 papers published in PubMed and >4,600 citations on the ISI, Core Collection (H-index = 38).