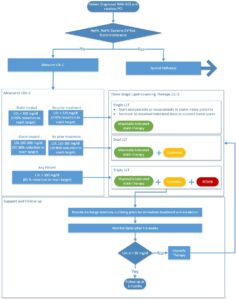 To the best of my knowledge, these are the first such recommendations that show how to manage with ACS patients in order to be on #LDLC goal meeting the approach of not only "the lower the better" but especially "the earlier the better" and "the longer the better – preferably lifelong"!.
We have indicated 3 groups, for which the
#combination
#therapy
should be immediately considered (after diagnosis/during hospitalization): those with baseline
#LDLC
that do not allow to be on
#target
with
#statin
#monotherapy
(fig. 1), patients at
#extremely
high risk (fig. 2) – see our attempt at NEW
#definition
, and statin
#intolerant
patients (fig. 3). There is also a special scenario for patients already taking statin therapy and ezetimibe for at least 8 weeks prior to admission (fig 4).