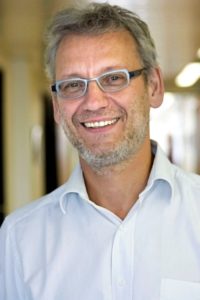 Director of the Endocrinology and prevention of cardiovascular disease department in Pitié-Salpêtrière Hospital, Paris, France
Member of the executive committee of the Institute of cardio-metabolism and Nutrition
Mail: eric.bruckert@aphp.fr
Eric Bruckert is Medical Doctor (graduated in 1986, Paris VI University), full Professor of Endocrinology, cardiologist by training. He has been President of the French Society of Atherosclerosis. He is also a member of the French Society of Endocrinology, the French Society of Cardiology, and the Editorial Board of 10 scientific French journals.
He wrote 7 books and more than 850 papers of which 371 are in peer-reviewed journals.
Main interest in research: dyslipidemia, familial hypercholesterolemia and prevention of cardiovascular disease. He has been principal investigators of more than 30 clinical trials with lipid lowering agents
He also served as local organizing committee of the EAS meeting in 2013 and is co-chair of EAS recommendation of homozygous familial hypercholesterolemia.