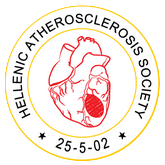 ---
Professor Demosthenes B. Panagiotakos
School of Health Science & EducationHarokopio University in Athens, Greece
Demosthenes Panagiotakos is Professor in Biostatistics, Research Methods in Nutritionand Epidemiology. Since 2016 is the vice Rector of Financial Affairs, Research andDevelopment of the Harokopio University in Athens. During 2013-2016 he was the Deanof the School of Health Science & Education at Harokopio University in Athens, Greece.
Dr Panagiotakos is also visiting Distinguished Professor at School of Arts and Sciences,Rutgers, the State University of New Jersey, US, Adjunct Professor at the University of La Trobe, Melbourne, Australia, at the University of Canberra, Canberra, Australia,
visiting Professor at the School of Medicine, University of Athens and at the Agricultural University of Athens. He has supervised 14 PhD and over 60 MSc theses. He is (or has served) as the Principal Investigator of 9 large–scale epidemiological studies (3,2M). His research interests include CVD epidemiology, risk modelling and analysis, medical research methodology, meta-analysis, as well as nutritional epidemiology and methodology. He has published 3 books, over 680 scientific papers in peer-reviewed international journals, as well as 50 papers in national journals and Conference proceedings and has more than 21.500 citations of his work (h-index of 64). He has received 3 Young Investigators' National and International Awards and 3 Scholarships (2 National, 1 EU) andmany Awards from various Scientific Societies. He has served as an evaluator for 17 National and International Organizations, reviewer in 61 international journals, as well as external evaluator for several faculty positions. He is an Executive Board member in 3 Scientific Societies and President Elect (2018-2020) of the Hellenic Atherosclerosis Society. He serves as Section Editor, Associate Editor or Editorial Board member in 17 international journals. He has invited to give more than 220 lectures in 16 countries around the world on the field of cardiovascular disease epidemiology and its risk determinants, including nutritional habits and Mediterranean diet.
Prof Panagiotakos is currently Member of the Scientific Committee of Health, Environment and Emerging Risks
of the European Committee (2016-2021). He is a Board Member of the National Nutrition Policy Committee and has served as Board Member of the Scientific Council of the Hellenic Food Authority and as Board Member of the National Council of Public Health.