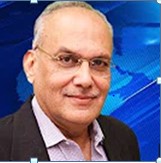 Dr. Raman Puri, Senior Interventional Cardiologist at Indraprastha Apollo Hospital, New Delhi, is one of the leading Cardiologists of the country. He holds the credit for being a personal cardiologist to Prime Minister of India and is recognized for his contributions in the field of healthcare.
Dr. Puri's accomplishments in the field of Interventional cardiology and community based preventive cardiology is absolutely because of his determination than destiny. With more than one lac non-invasive cardiac procedures and more than 3000 invasive procedures to his credit. He has passion to reduce the incidence of atherosclerotic cardiovascular disease among Indian population with a special focus on adolescents and young adults. He has being pioneer and instrumental in framing Expert consensus statement to treat dyslipidemia among Indians and Asians. He has worked and is continue to work for the welfare of the people by organizing health check-up camps to screen dyslipidemia and hypertension among adolescents and adults.
His key contribution in field of lipids includes:
Established Asian Familial hypercholesterolemia Registry, where such cases can be reported by Asian healthcare workers and patients
Conducted an epidemiology study to understand the prevalence of dyslipidemia in school going children, Abstract published in JACC, March 17, 2015.
Since 2016 in association with Lipid Association of India organizing Lipid Certification Course endorsed by International Atherosclerosis Society.
Co-chair  and authored Expert Consensus Statement on Management of Dyslipidemia in Indians 2016: Part 1. JAPI, 2016.
Co-chair and authored Expert Consensus Statement on Management of Dyslipidemia in Indians 2017: Part 2.  Clinical Lipidology, 2017; 12 (1): 56-109.
He is one of the experts/author of Position paper: Statin intolerance –an attempt at a unified definition. Position paper form an International Lipid Expert Panel on Statin Intolerance
Instrumental in starting Healthy Heart Cricket Tournament, had first tournament on 1st April 2018 a unique initiative for increasing awareness among doctors and public
He is a fun-filled person with healthy and disciplined life style practices.