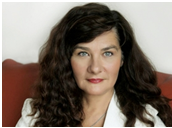 ZanetaPetrulioniene,Professor of Cardiology at Clinic of Cardiac and Vascular Diseases,Institute of Clinical Medicine, Medical Faculty of Vilnius University, Lithuania.
Also she is Head of the first Department of Cardiology at Vilnius University Hospital SantarosKlinikos, Vilnius, Lithuania.
Fellowships and participation in the projects:Fellow of European Society of Cardiology (FESC); member of European Society of Atherosclerosis (EAS), Ivory member of European Association of Preventive Cardiology (EAPC).
She is President Elect of Baltic Society of Atherosclerosis (BAS) since 2018, board member of BAS since 1994; board member of Lithuanian Society of Cardiology since 1998(leading person of Cardiovascular Prevention working group), board member of Lithuanian Society of Hypertension since 2010.
She actively worked as President of Lithuanian Heart Association (2010-2015), since 2015 she is head of Lithuanian Heart Association Vilnius Branch.
She served as National Expert of European Society of Cardiology (ESC) for the preparation of Cardiovascular Prevention Guidelines and Guidelines on CVD in Diabetes in 2016 -2018.
For many years professor worked as Independent External Expert appointed by European Commission for the project evaluations.
Since 1996 professor was involved as Investigator, Principal Investigator and/or Country Leader in more than 20 International Randomized Clinical trials.
ZanetaPetrulioniene has focused her efforts on primary and secondary CVD prevention, CVD epidemiology, morbidity and mortality trends, risk profile evaluations, lipidology, lipid-lowering pharmacology, nationwide heterozygous and homozygous familial hypercholesterolemia.
Currently she is taking part in the world-wide familial hypercholesterolemia projects: she is National Leader of International Project ScreenPro FH (Screening Project for Familial Hypercholesterolemia in Central, Southern and Eastern Europe, Project leader Prof. Richard Ceska) also National Leader of International Project Global EAS FH Studies Collaboration (EAS FHSC – Project leader prof. Kausik Ray).
Professor is also member of  Competencecenter of Lipidology in Vilnius University Hospital Santaros Clinics (member of MetabERN; network coordinator Maurizio Scarpa).
Cardiovascular morbidity and mortality in all Baltic countries (Lithuania, Latvia, Estonia) is still very high and much higher than in Nordic and Western European countries. Professor is taking part in many regional projects which could help to improve CVD trends. Together with colleagues she has founded first Preventive Cardiology Department in Lithuania. She is member of organizing committee and one of the leaders of nationwide Primary Prevention Project – Lithuanian High Cardiovascular Risk Programme (LitHiR) since 2005. More than 200 000 middle-aged Lithuanian men and women without overt CVD are screened every year. First results of the LitHiR programme arewidely presented and published. Professor also is member of the International Project "Optimization of diagnosis and the creation of treatment strategy for type 2 myocardial infarction", Project leader – prof. Joseph Alpert.
ZanetaPetrulioniene is well-known in the region for her research, lectures, articles  and publications on atherosclerosis and CVD prevention. Professor has supervised and consulted manydoctoral dissertations in this field.She together with her co-workers has published numerous articles in international and national journals on preventive cardiology.