---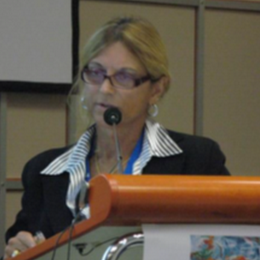 Claudia Stefanutti, M.D., Ph.D., Associate Professor, received her Ph.D. in Experimental Medicine (Atherosclerosis) from University of Siena, Italy, in 1988. Her specialties are: Liver and Metabolic Diseases (1986) and Emergency Surgery (1994), both received from University 'Sapienza' of Rome. She studied extracorporeal techniques at the Department of Hematology from 1987-1989. During her training in surgery she introduced for the first time, the autologous blood recovery from wound or surgical site. She is Head of Extracorporeal Therapeutic Techniques, Lipid Clinic and Atherosclerosis Prevention Centre, Regional Centre for Rare Diseases (Lazio) – Department of Molecular Medicine, and Department of Immunohematology and Transfusion Medicine. She is Professor (Associate) of Internal Medicine, Health Sciences and Applied Medical Biotechnologies at the University 'Sapienza'of Rome. Visiting Professor at Medical University of Vienna, Austria, and University of Nis, Serbia. Past full Member of the International Society of Cytokines (2010-2017) and European Board Trustee of the International Society for Apheresis (2011-2017). She founded and leaded the Italian Multicentre Study on LDL-apheresis Working Group (2006-2012), and recently (2013) she has founded the Multidisciplinary International Group for Hemapheresis Therapy and Metabolic Disturbances Contrast (MIGHTY MEDIC). She leads the Italian Multicenter Study on LDL-apheresis Working Group (Coordinator) and the Multidisciplinary International Group for Hemapheresis Therapy and Metabolic Disturbances Contrast (MIGHTY MEDIC) (President). 2010 Full Member of the International Society of Cytokines
2011 European Board Trustee of the International Society for Apheresis (ISFA).
2006-2012 Italian Multicenter Study on LDL-apheresis Working Group. National Coordinator
2013 Multidisciplinary International Group for Hemapheresis Therapy and Metabolic Disturbances Contrast – Italy / Acronym: MIGHTY MEDIC – International Coordinator
2009 Italian Society of Internal Medicine
2013 Gruppo di Studio delleMalattieDismetaboliche e dell'Aterosclerosi
2015 Full Member of the European Atherosclerosis Society
2015/2016 President of the Multidisciplinary International Group for HemapheresisTherapY and MEtabolicDIsturbances Contrast (MIGHTY MEDIC) – Global Scientific Society
2016 Invited Full Member of European Association for Research on Obesity in Childhood (EAROC)
2017/2019 Full Member of the Association for Preventive Pediatrics Serbia
2018 Full Member of the SocietàItalianaRicercaTraslazionale e ProfessioniSanitarie, S.I.R.T.E.P.S.
2018 Full Member of the Steering Committee of the International Lipid Expert Panel (ILEP)
2019 Full Member of the International Society of Preventive Pediatrics
2019 Full Member of the Executive Committee for the Regional Federation for Europe of the International Atherosclerosis Society (IAS)
Peer reviewer
Cochrane Renal Group. Peer Reviewer
HEART UK The Cholesterol Charity – Peer Reviewer
National Science Centre (Narodowe Centrum Nauki – NCN; http://www.ncn.gov.pl). Poland – Peer ReviewerShe published 324 research and scientific papers (for IF and h-index after web advent, check Pubmed, Scopus and ISI Web of Knowledge). She is reviewer / board of International scientific journals, and peer- / expert reviewer / advisor of a number of national and International public institutional bodies. Teaching activity: Medical Students, Radiology Technicians, Nurses.
Main research topics:
Lipid metabolism disturbances; Immunological disorders; Atherosclerosis; Preventive cardiology
Extracorporeal Therapeutic Techniques; Clinical trials (Lipid-lowering drugs and Medical devices –Validation/Upgrade)